The Sailing Vessel Apropos
San Juan Islands Trip
---
August 4-13, 2006
Destination: San Juan Islands
Crew:
Jim, Karen
Day 1: Lake Union to Port Townsend (35nm)
Departed Lake Union around 10am on Friday for a 10-day trip to explore the San Juan Islands. This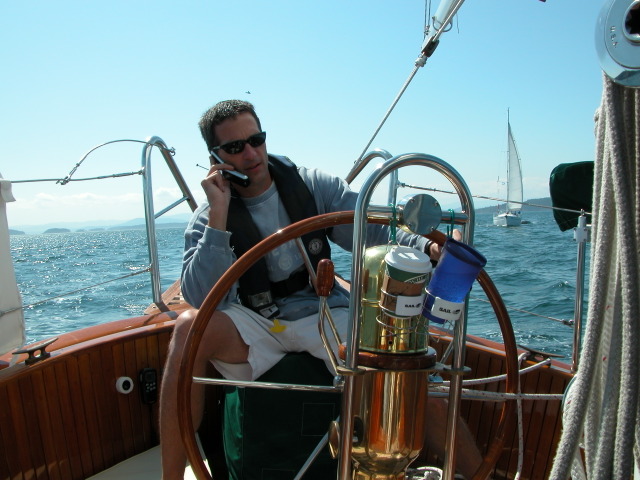 was our first extensive cruise and our first time sailing outside of Puget Sound. The weather was sunny but there was little wind so we motored north. After lunch a northerly wind started picking near Point No Point so we raised the sails and tacked our way north. Arrived at Port Townsend at 7pm and anchored a few hundred feet from shore. Paddled the kayak to a dock and had dinner at a restaurant with live jazz. After dinner we found another pub with live music and listened to some great guitar and harmonica blues players.
Day 2: Port Townsend to Friday Harbor on San Juan Island
Day 3: Friday Harbor to Massacre Bay on Orcas Island
Day 4: Massacre Bay to Echo Bay on Sucia Island
Later that evening we splurged with our fully charged batteries by using the microwave to make popcorn and watching a movie on the 38" lcd flat panel tv with surround sound. Who says you can't have the luxuries of home on a boat!
Day 5: Sucia Island
Day 6: Echo Bay to Jones Island
Day 7: Jones Island to Roche Harbor on San Juan Island
Day 8: Roche Harbor to Reid Harbor on Stuart Island
Day 9: Reid Harbor to Kingston
Day 10: Kingston to Lake Union
Up-anchored and pulled into the dock at Kingston. Ate crepes for breakfast then sat in a coffee house relaxing and reading the paper. Back at the marina we saw the couple we met on Sucia Island and stopped to have a chat about our trip since we parted. Left Kingston at 2pm and flew the spinnaker and main to cross Puget Sound. Went through the Ballard locks, under 2 drawbridges, and arrived at our Lake Union moorage at 6pm.
Trip Statistics

| | |
| --- | --- |
| Ports visited | 8 |
| Nautical miles | 235 |
| Engine hours | 46 |
| Crabs caught | 10 |